Chicago Afrobeat Project:
Chicago Afrobeat Project
(CAbP Music)
buy CD/hear samples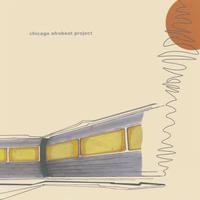 Chicago may be known more for blues than Afrobeat, but this four-year-old group of musicians may expand some minds. While the somewhat drifty opener "Talking Bush" fails to move my nyash, the remainder of the album hits a sweet spot. CAbP (as they abbreviate themselves) aren't big on singing, though there's a rapped poem on "
Zambi
." So while you aren't getting the biting social commentary of, say, Fela Kuti or Antibalas, you do get seven long original tracks with tight arrangements. Morikeba Kouyate's kora riffs in "Jekajo" and Tj Okinola's talking drum throughout the album are delightful West African flavors rarely heard in Afrobeat. Otherwise it's mostly what you'd expect: funky polyphonies, attitudinal horn and sax solos, circular bass and guitar lines, all competing to get you dancing. Recommended!
[mp3] Chicago Afrobeat Project: "
Zambi
"
hear more CAbP mp3s in SoundRoots earlier posting on Afrobeat