SoundRoots/Spin The Globe
Top 10 World Music Albums - November 2006

1. Boom Pam:
Boom Pam

2. Salem Tradicion:
Krie

3. Habana Abierta:
Boomerang

4. Izaline Calister:
Kanta Helene

5. Bola Abimbola:
Ara Kenge

6.
I-Fam:
Du Nouveau Sang

7. Régis Gizavo, Louis Mhlanga, David Mirandon:
Stories

8. Bole2Harlem:
Bole2Harlem Vol. 1

9. Marta Topferova:
Flor Nocturna

10. Bela Lakatos:
Introducing Bela Lakatos & the Gypsy Youth Project
Speaking of Gypsies, there's a great movie now making the rounds of film festivals.
When The Road Bends: Tales of a Gypsy Caravan
is a documentary about the Rom (Gypsy) musicians who participated in the "Gypsy Caravan" concert tour. Stark contrasts emerge as the film cuts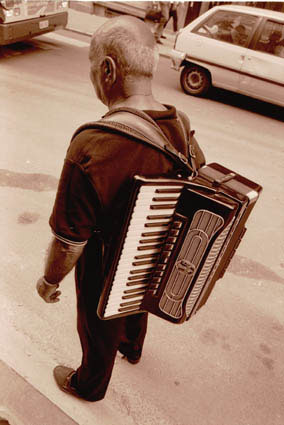 between the musicians' life on the road (in the USA and Europe) and life at home. Equally fascinating are the interactions between the musicians from different parts of the Romani diaspora. They don't all speak the same languages, their music is different, and their physical appearance has wide variations. They can't verbally define the essence of what makes them one people, but the brotherhood is clear in their music and they way they bond during the tour.
The artists included are
Esma "Queen of the Gypsies" Redzepova
of Macedonia [
mp3
],
Antonio El Pipo Flamenco Ensemble
of Spain [
mp3
],
Fanfare Ciocarlia
of Romania [
mp3
],
Maharaja
of Rajasthan, India [
mp3
], and
Taraf de Haïdouks
of Romania [
mp3
]. Be sure to check out the
movie trailer
.
This is a challenging but life-affirming film that confirms the power of music not only to change and connect hearts, but also to make practical changes, like bringing electricity to a village. Catch it on
tour
.