Cuchata:
Sangre Mixto
(Eleggua)
buy CD/hear samples
Is Seattle an emerging hotbed of Latin Alternative (aka Alt-Latin) music? You can't get much farther away from Latin lands geographically or meteorologically, but bands including Cuchata (formerly Machete) are working hard to include Latin tunes in the Seattle landscape.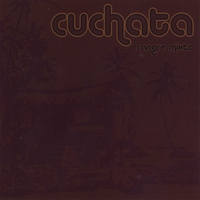 Cuchata's second release,
Sangre Mixto
, sees the band expanded from three to five, now incorporating a couple of horn players. Still at the heart of the band are Marcelo Quinonez's unique vocals, which have a haunting quality, at once intimate and aggressive, inviting and unsettling. While the sound is not a radical departure from the previous album, the horns serve as a powerful foundation for Marcelo's vocals and guitar, and provide some refreshing musical alternatives.
Biggest complaint: the black-on-dark-brown text makes the CD artwork nearly illegible. Hard to categorize, easy to enjoy, Cuchata is sure to catch the ears of many more listeners with this album. But decide for yourself: Cuchata provides two full tracks for your previewing pleasure: "
Nueva
" and "
Sistema Mayoridad
."