Last fall SoundRoots raved about the live show by Senegalese rappers Gokh-Bi System at Seattle's
Bumbershoot
festival. The group is about to embark on another US tour, this one called the "Ancient Meets Urban Tour."
Ancient Meets Urban is a mission-based musical experience featuring a tour of young, rising music stars who blend traditional African music with urban music styles including hip hop, dancehall reggae, and R&B. In alignment with their mission to bridge "Ancient" Africa and "Urban" America, A Round World Music acts, Gokh-Bi System, leaders of the emerging African hip-hop movement and one of the most popular African groups in the U.S. today will be the featured act. In alignment with June's Black Music Month, while on tour, AMU artists will also visit local schools, colleges, and universities in each market bringing the Ancient Meets Urban experience to the classrooms in an effort to reach and impact the younger generation by exposing them to music from abroad - music filled with messages about peace, love, and justice.

A portion of the proceeds from the AMU Tour and CD sales will be contributed to the AMU Academy of Justice (AMUAJ), a non-profit organization founded in 2007 to aid in Africa's development with a focus on economic development and education. A contribution will also be made to establish a state of art music studio in the impoverished village of Pikine Guinaw Rails (Dakar Senegal) and create a music distribution model to provide African artists with an opportunity to create and sell their music around the world.
Tour dates: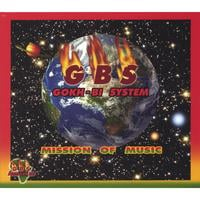 April 7, 9:30pm - Iron Horse Music Hall, Northampton, MA
April 19, 5pm - Verge College Music Conference, Boston, MA
May 11&12 - Lake Eden Arts Festival, Black Mountain, NC
May 26, 10pm - BAM Café - Dance Africa Festival, Brooklyn, NY
June 10, 7pm - International Festival of Arts & Ideas, New Haven, CT
June 13, 6pm - Porter-Phelps Museum, Hadley, MA
August 12, 2pm - North Alstead Market, New Haven, CT (opening for Angelique Kidjo)
Check out these Gokh-Bi System videos:
Ndadje
:
Mama Afrika
:
Mission of Music
Read an African Path
interview
with Gohk-Bi
Pick up their album
Mission of Music
(or download at
Calabash
)