Frank London: A Night in the Old Marketplace
Soundbrush Records -
buy CD/hear samples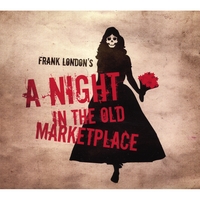 There's an angel who lies at the bottom of the well.
Can you still hear her sighs from the bottom of the well?
She fled from a man who she never could love.
Now her bed's in the sand at the bottom of the well.
That rather morbid lyric, accompanied by mournful accordion, sets the stage for this Frank London production, created for a theatrical adaptation of the 1907 Yiddish play by I. L. Peretz. The music is dark and brooding, and eminently enjoyable as it tells the musical tale of Sheyndele's death, how a group of Klezmorim were similarly lured to their deaths in the well, and how all these dead folk haunt the village. Oh, and there's a battle with a weathervane rooster.
Musicians on this entrancingly goulish album include They Might Be Giants, Susan McKeown, the Klezmatics' Lorin Sklamberg, and Manu Narayah, lead of Broadway's
Bombay Dreams
. Now if they'll just take this show on the road, so we can all enjoy the visuals as well as this engaging musical updating of Yiddish theater.