Nawal is my favorite musician from the Comoros. Okay, granted, I don't know of many other musicians from this group of islands (officially known as the
Union of the Comoros
) in the Indian Ocean between Madagascar and Mozambique.
Not to be confused with that other
Nawal from Lebanon
, this Nawal lives in France but breathes through her music the multiculturalism of her island homeland.
Nawal's new CD,
Aman
, officially hits the streets tomorrow, but you can get it today at
CDbaby
. It's got a similar vibe to her last release,
Kweli
(Truth), with sparse arrangements but a rich and powerful spirituality pervading the songs about hope, love, blues, peace, and dancing.
[mp3] Nawal: Salama (Peace)
from the album
Aman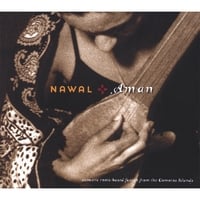 Nawal's myspace
currently provides a free download of another track from this CD, "Leo ni lio (Winds of Hope)," a song celebrating the peaceful political transition in the Comoros following the May 2006 elections, and a hope that the new leader will keep his promises.
Nawal is currently touring the USA with her trio including her brother Idriss Mlanao on bass and Melissa Cara Rigoli on mbira and percussion. Nawal herself plays guitar and
gambusi
as well as singing. They're in Eureka, Calif. tomorrow, and by Friday will be here in Olympia. The group will play live on KAOS radio's
Spin The Globe
show Friday morning (10-noon Pacific time), then will perform at
Traditions Cafe
in the evening.
Her 2005 appearance here was sold out, and I implore you to become one of the fortunate few who have the chance to experience this transcendent music performed live.
Full tour schedule.