Mud Bay Mud Race
Originally uploaded by earball visions.
Today, a slightly different type of culture. This morning at around 10:00 a.m. marks the low tide in Olympia, Washington, and the beginning of the annual Mud Bay Mud Race. Shoes are required, and it's recommended that they be duct-taped to ankles. Other clothing is optional. Some of the runners will clean up afterward and head to the graduation ceremonies of The
Evergreen State College
later in the day. The origins of the race are lost in the muds of time...unless you know something...
This image was pulled from my photo archives from 4-5 years ago. You can find a few
other photos
on the Web from the 2001 Mud Race.
A search turned up a
similar mud race
in
Maldon
, UK. Do you know of others? Is there an unrecognized global
mud-racing
network?
While mud-racing is arguably a significant piece of world culture, there's an even tighter connection to our usual subject matter. Following the race and Evergreen's graduation,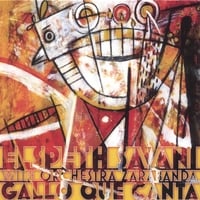 tomorrow finds the college campus hosting Super Saturday, the largest one-day festival in the state, and one which includes several global listening options. On the
festival schedule
you'll find Celtic, Norteno, salsa, reggae, Brazilian, and other styles of music on several stages.
You'll also find, on the Main Stage, Seattle-based
Orchestra Zarabana
playing songs rooted in the musical traditions of Cuba. The band has a new CD just released, and here's a taste to entice you.
[mp3] Orchestra Zarabanda: Gallo Que Canta
from the album
Gallo Que Canta
Members of Orchestra Zarabanda will be on radio show
Spin The Globe
this morning to talk about their music and their new album. Catch the broadcast on 89.3 fm, or via the
KAOS Webstream
.