This just in from a Cuba contact:
IBBAE, CHACHÁ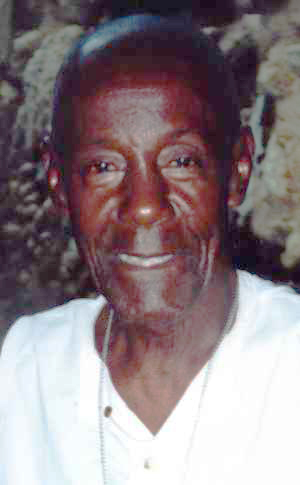 At this moment, when we are far from Cuba, we have received word of the death of the last surviving founder of Los Muñequitos de Matanzas: Esteban Vega Bacallao "Chachá", stevedore, quinto master, possessor of one of the oldest sets of consecrated drums in Cuba, comparsero, maker of folkloric instruments, one of the first maestros of the Conjunto Folklórico Nacional de Cuba, admired by Cubans and people from other lands, respected by everyone as one of the great figures of Matanzas culture.
This October 9 will mark the 55th anniversary of the first public performance by Los Muñequitos. The group was initially named Guaguancó Matancero, but with the love and esteem of the public, changed its name to become a transcendent symbol of Cuban folkloric music. Chachá was one of the initiators of this work. He was born without thinking of fame, and he became who he was without any other idea than that of expressing an impulse that derives from life in the poor barrios.
Stevedore in the port, from a very humble background, he went to parties, streetcorners, and bars, looking for the opportunity to play the drum, sharing with friends and brothers in religion, drinking beer and rum in the heat of the street, in the jams of "beodos" (drinking companions), enjoying the moment as if all of life depended on it. That was the formation of Los Muñequitos.
Chachá lived more than 80 years, but we still didn't know him as well as we should have. As with all rumberos, time passed differently for him, or rather, time didn't count, it sang, which is why we throw great rumbas for our dead, because only in that way can they leave the world as they lived, made as they are of music and drum.
Today we cannot be at your side, Chachá, but we will sing for you as if we were in La Marina and your drums were our flag, so that your life can be, like the lives of all those that created this group over more than half a century, the energy that makes us move forward, so that time can go on singing, so that our fire can go on burning and the life of our people can always have the sabor of our land.
IBBAE BAYE TONU.
LOS MUÑEQUITOS DE MATANZAS VICTORIA, CANADA JULY 19 2007
(Translation by Ned Sublette)
===================
Original:
IBBAE, CHA CHA
EN ESTOS MOMENTOS, MUY LEJOS DE CUBA, ACABAMOS DE RECIBIR LA NOTICIA DEL FALLECIMIENTO DEL ULTIMO FUNDADOR DE LOS MUÑEQUITOS DE MATANZAS: ESTEBAN VEGA BACALLAO "CHA CHA", ESTIBADOR, QUINTERO, POSEEDOR DE UNO DE LOS JUEGOS DE TAMBORES AÑA MAS ANTIGUOS DE CUBA, COMPARSERO, FABRICANTE DE INSTRUMENTOS FOLKLORICOS, UNO DE LOS PRIMEROS MAESTROS DEL CONJUNTO FOLKLORICO NACIONAL DE CUBA, ADMIRADO POR CUBANOS Y GENTE DE OTRAS TIERRAS, RESPETADO POR TODOS COMO UNO DE LOS MAYORES DE LA CULTURA MATANCERA.
EL PROXIMO 9 DE OCTUBRE SE CUMPLIRAN 55 AÑOS DE LA PRIMERA PRESENTACION PUBLICA DE LOS MUÑEUIQOTS, AGRUPACION LLAMADA INICIALMENTE GUAGUANCO MATANCERO Y QUE POR AMOR Y APRECIO POPULAR, CAMBIO SU NOMBRE PARA TRASCENDER COMO SIMBOLO DE LA MUSICA FOLKLORICA CUBANA. CHA CHA FUE UNO DE LOS INICIADORES DE ESTA OBRA, QUE NACIO SIN PENSAR EN LA FAMA, SE FORMO SIN OTRA IDEA QUE LA DE DAR RIENDAS AL IMPULSO QUE SALE DE LA VIDA EN LOS BARRIOS POBRES.
ESTIBADOR DEL PUERTO Y DE PROCEDENCIA MUY HUMILDE, ANDABA LAS FIESTAS, LAS CALLES Y LOS BARES, BUSCANDO EN ELLOS LA OPORTUNIDAD DE SONAR EL TAMBOR, COMPARTIENDO CON OTROS AMIGOS Y HERMANOS DE RELIGION, SABOREANDO LA CERVEZA Y EL CALOR DEL RON CALLEJERO, DE LAS DESCARGAS DE "BEODOS", DISFRUTANDO DEL INSTANTE COMO SI LA VIDA TODA DEPENDIERA DE ESE MOMENTO, ASI SE FORMARON LOS MUÑEQUITOS.
CHA CHA VIVIO MAS DE OCHENTA AÑOS, PERO AUN ASI NOS FALTO PARA CONOCERLO. PARA EL COMO PARA TODOS LOS RUMBEROS, EL TIEMPO CUENTA DE OTRA MANERA, O MEJOR DICHO, EL TIEMPO NO CUENTA, EL TIEMPO CANTA, POR ESO HACEMOS GRANDES RUMBAS PARA NUESTROS MUERTOS, PORQUE SOLO ASI SALDRAN DE ESTE MUNDO COMO SIEMPRE HAN VIVIDO, HECHO MUSICA Y TAMBOR.
HOY NO PODREMOS ESTAR A TU LADO, CHA CHA, PERO CANTAREMOS PARA TI COMO SI ESTUVIERAMOS EN LA MARINA Y TUS TAMBORES SERAN NUESTRA BANDERA, PARA QUE TU VIDA SEA, COMO LA DE TODOS LOS QUE CREARON HACE MAS DE MEDIO SIGLO ESTE GRUPO, LA ENERGIA QUE NOS HAGA SEGUIR, PARA QUE EL TIEMPO SIGA CANTANDO, PARA QUE NUESTRO FUEGO NO SE APAGUE Y LA VIDA DE NUESTRA GENTE TENGA SIEMPRE EL SABOR DE NUESTRA TIERRA.
IBBAE BAYE TONU.
LOS MUÑEQUITOS DE MATANZAS VICTORIA, CANADA 19 DE JULIO 2007