I'm a tree killer.
I feel bad about this. Every time I uproot a sapling, I look over my shoulder, expecting the scolding finger of
Wangari Maathai
to advance ominously toward me, urging me to mend my ways. While she and her friends are trying to fight global warming by planting a billion trees this year, I'm subtracting from the planet's total, one by one.
In most ways, I'm very environmentally conscious. I recycle, heat my home with renewable energy, bike and walk and bus as much as I drive, and use compact fluorescent bulbs. I try to eat and shop locally, avoiding processed and far-transported foods.
But tree-killing I can't avoid.
It's not really my fault. I just happen to live in a part of the world where the main challenge isn't getting things to grow, it's keeping them from growing. Trees, grasses, vines all conspire to take over any unmaintained space.
So you'll regularly find me patrolling my yard, pulling hazelnut trees out of the lavender and black walnut trees from the tomato patch. Some trees get to stay: I've kept a Western red cedar in the front, and a bay laurel in the back, as well as a deciduous conifer that I've yet to identify. Planted by birds and squirrels, they sprout frequently, all through the growing season.
I wish I could ship them all off to some town in Africa on the edge of a desert. Instead they get composted, becoming the mulch and soil that other plants will grow in.
Today is
Blog Action Day
, a day on which many blogs will have posts relating to the environment. Perhaps a few others will also include environmental confessions. I don't have a lecture for you, just the story that one can kill trees and still be environmentally conscious. It's a complex world. So just be alert to what's around you.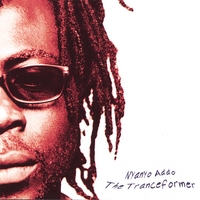 Pull out a tree if it's crowding out something else. Plant a tree where one could be useful. And think about how people 50 or 100 years from now will view your lifestyle and your culture.
Of course I won't leave you music-less on Blog Action Day. As you're thinking and/or acting, groove to this spicy track from Ghanian drummer Nyanyo Addo.
[mp3] Nyano Addo: Morning Sun (Tunez remix)
from the album
The Transformer