Funny how things come full circle. One of the first albums (yes, kids, actual vinyl) I owned was by a band that reunites tonight for the first time in 27 years in a tribute to late music promoter
Ahmet Ertegun
.
Ertegun, you may know, was co-founder of Atlantic Records (and of the New York Cosmos of the defunct NASL). Could it have been his Turkish roots that gave him such a keen ear to up-and-coming sounds? I mean, he had the insight to pay $2,500 to buy out the contract of a then-unknown musician named Ray Charles. He embraced the rock and roll era, signing Cream, Crosby, Stills, Nash and Young, and an edgy band called Led Zeppelin.
One year ago, Ertegun fell at a Rolling Stones concert, and never recovered. His legacy will be on display tonight at the O2 Arena in London, where an astounding lineup -- Lez Zeppelin, Pete Townshend, Bill Wyman and the Rhythm Kings, Foreigner and Paolo Nutini -- will pay tribute to him as a benefit for his
Ahmet Ertegun Education Fund.

A poll of Zeppelin fans asked what songs they'd most like to hear from the reunited band. The results? Well, here are the top 10:


1. 'Kashmir'
2. 'Stairway To Heaven'
3. 'Whole Lotta Love'
4. 'Rock And Roll'
5. 'Black Dog'
6. 'Immigrant Song
7. 'When The Levee Breaks'
8. 'Dazed And Confused'
9. 'Since I've Been Loving You'
10. 'Heartbreaker'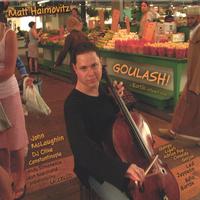 In our usual SoundRoots manner, we'll twist this in a global way. Had "Stairway to Heaven" prevailed, you'd probably be listening today to
Rodrigo & Gabriela
's cover of that warhorse. Instead, here's a global string interpretation of the already worldly #1 choice. Robert Plant wrote the lyrics to "Kashmir" in 1973 while driving through the Sahara Desert in Morocco (incidentally, nowhere near the actual
Kashmir
) and the song is on the album
Physical Grafitti
.
Enjoy.
[mp3] Matt Haimovitz: Kashmir
from the album
Goulash!