CD REVIEW
Sursumcorda:
L'Albero Dei Bradipi
(Passion)
buy CD/hear samples
For reasons that aren't clear, the booklet to this Italian-language disc includes lyrics only in English. This odd surprise gives a welcome insight into the music of this group whose credits might make you think they're a classical music ensemble, with instruments including cello, salterio (an Italian zither), recorders, oboe, slide flute, English horn, and classical guitar. While the music is intricate, precise, and beautifully played, the arrangements (and the inclusion of other instruments including kalimba, berimbau, hand drums, and mouth harp) put this more firmly in the world music pasture.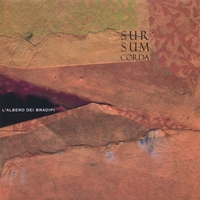 The band's name is Latin for "Lift up your hearts," and I suppose they do at that. Not in a bouncy, pop-music sort of way, but with a sort of melancholy that befits the gray area they occupy between classical and folk styles. It took me a couple listens to really appreciate this album, but I was won over by the crazy teetering of "La Notte Degli Oscar (The Night of the Oscars)," and the blend of strings, accordion, and kalimba on the tango-rooted "Mi Hanno Perso (They Lost Me)."
The album name, by the way, translates as "The Tree of the Sloths." Is it a musical metaphor? I have no idea.
[mp3] Sursumcorda:
Mi Hanno Perso
from
L'Albero Dei Bradipi