Despite a lot of distractions this weekend, including all those inspiring Martin Luther King Jr. Day activities and speeches, I've still got Andy Palacio on the brain.
Palacio, the Garifuna musician/ambassador who passed so suddenly last week, had a fantastic album in
Watina,
which was one of my favorite albums of 2007. It was his first album with Cumbancha Records, and a real push toward reaffirming and spreading his Garifuna heritage.
But Palacio had been on the music scene for some time. A decade ago Stonetree Records released an album called
Paranda: African in Central America
that explored a variety of Afro-Latin sounds from Belize and environs, including offerings from Garifuna artists with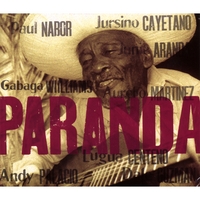 whom Palacio worked on
Watina
.
Paranda
was a foreshadowing of Palacio's later work, much more so than his 1990s dance-oriented albums
Til de Mawnin
and
Keimoun: Beat On
.
So here's a song from that earlier compilation, featuring a duet by Palacio with perhaps the other most well-known Garifuna musician, Aurelio Martinez. We hope that Martinez and other Garifuna artists strongly continue the unfinished work of promoting this wonderful but under-recognized musical culture.
[mp3] Andy Palacio & Aurelio Martinez: Lanarime Lamiselu
from
Paranda: African in Central America

tags: worldmusic, paranda, garifuna, andy palacio, aurelio martinez, stonetree