Zimbabwe and observers around the world are holding their breath for the outcome of the nation's elections. President Robert Mugabe is at the center of the fray -- a man who helped usher in Zimbabwe's independence and became president in 1987, but whose policies have reflected a growing distance between himself and the reality for Zimbabweans. The nation was once known as "the breadbasket of Africa," with a highly productive agricultural sector. But around the turn of the century, the term "basket case" was more commonly applied to the struggling country.

Mr Mugabe's legacy is now forever tainted with the odious whiff of corruption, the rank oppression of human rights, the stunted growth of the economy, the clawing grip of early mortality, and the rasping destitution of people just trying to live. A Zimbabwean man can expect to live, on average, to 40 years of age, a woman to 38. The prevalence of HIV/AIDS in adults is estimated at more than a quarter of the population. The unemployment rate is 80%. Those living below the poverty line are about 70%. Inflation is running at 100,000%, the highest in the world. Its gross domestic product is now smaller than it was a decade ago. Six years ago unemployment was 50% and inflation 100%. The backbone of its economy, commercial farming, is in ruins thanks to the madness of Mr Mugabe in seizing agricultural land, estimated at 10 million hectares, running off the white farmers and installing political cronies and military henchmen. He also razed the homes and businesses of more than 500,000 supporters of opposition parties. (theage.com.au)
South African jazz icon Hugh Masekela named names in his controversial song "Change," rattling off a list of intransigent political leaders who clung to power at the expense of their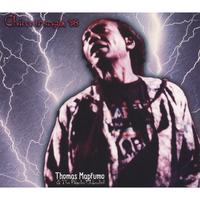 people's well being. If my memory is correct, Mugabe may be the last of those leaders still in power, Daniel Arap Moi of Kenya and Charles Taylor of Liberia having finally relinquished power.
Thomas Mapfumo was a key figure in the Zimbabwean independence struggle, and has become a key critic of the Mugabe government as well. Currently living in exile in Eugene, Oregon, Mapfumo has continued to release hard-hitting (and danceable) songs promoting Zimbabwean culture and traditions and denouncing political corruption.
While we wait to see if Zimbabweans have a second revolution, my prayers are not so much for a specific political outcome, but for the people to be free of oppressive rulers, to have the opportunities to rebuild their nation, and of course for more music, dance, and joy to emerge.
[mp3] Thomas Mapfumo: Set The People Free
from the album
Chimurenga '98
More Mapfumo:
SoundRoots 2007 birthday card to Mapfumo
2002 Afropop interview
Interview at The Leopard Man's African Music Guide
tags: worldmusic, africa, zimbabwe, chimurenga, thomas mapfumo, robert mugabe