Muslims have
99 names for God
. And this just hints at the manifold ways the divine is made manifest in the world. Ways that include music, of course.
Sacred music is on my mind because that's the focus both of this morning's episode of
Spin The Globe
and tomorrow's
World Sacred Music Festival
here in Olympia. But many people have a narrow view of what "sacred music" actually is.
Growing up, my sacred music was in the form of stolid hymns rooted in New England Protestantism. Now I'm wiser, and my spiritual view encompasses music from traditions around the world. Who could deny the power of Nusrat's Sufi chants, or the beauty of a Native American flute?
That kind of diversity is valued at KAOS radio, where Spin the Globe originates. KAOS is a community radio station, free of advertising and big corporate money, and dependent on local businesses and listeners -- both local and worldwide via our webstream -- for financial support. Call 360-867-5267 or
join online
.
KAOS is currently having its Spring Membership Drive. I urge you to support diverse, grassroots radio of the kind that allows me to bring you Spin the Globe. If you donate $60 or more, you'll be thanked with a CD (or, perhaps concert/festival tickets if you're close enough to use them) in addition to other KAOS goodies. Call 360-867-5267 or
join online
.
But don't do it for the bling. Join KAOS because you value independent media at a time of unprecedented media consolidation. Join because you love and support independent world music artists. Join because it's the right thing to do. Call 360-867-5267 or
join online
.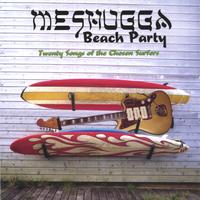 While you're joining, here's a surprising rendition of a classic Hebrew song about the Sabbath that describes two angels who supposedly come home from the synagogue on Friday night in honor of the Sabbath meal. The song states, "Come in peace, bless me in peace, and go out in peace."
[mp3] Meshugga Beach Party - Shalom Alechem
from the album
Twenty Songs of the Chosen Surfers
tags: worldmusic, kaos, radio, media diversity, Meshugga Beach Party, hebrew, jewish, sacred, spintheglobe