So, dear SoundRoots reader, by now you have recognized some of my preferences, and near the top are Afrobeat, Balkan brass, and pretty much anything with great global percussion. Not quite at the top is the catch-all known as "Latin alternative" -- an umbrella term almost as indescriptive as "world music," except that at least the former hints at what language to expect.
Still, I know from some of your comments (hey...I've been meaning to talk to you about the lack of comments of late. So I will, later. But for now...) that some of you are fans of the emerging rock/pop/reggae/punk/etc sounds emerging from Latin American and expatriate Latinos, such as the Ireland-dwelling Rodrigo y Gabriela.
So this one's for you. The new album
En Paz
from Ecuador-born Cecilia Villar Eljuri will hit the stores May 20 (scoop: it's already available on
CDBaby
). I know today is May Day, but since she doesn't have songs about striking dockworkers, I'll settle for this song of imprisonment, which reflects the more rocking (and flamenco-tinged, with the vocal assistance of Johnette Napolitano) side of the artist. There's a fair amount of variety on
En Paz
, from the quiet conflicted passion of "Yo Soy" to the reggae licks of "El Aire," featuring Sly & Robbie.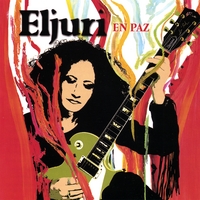 The album's title emerged from Eljuri's feelings as she put together the album. "These days I don't see much peace around us," she explains. "I see danger, inequities, fighting over borders, divisions among people and the loss of love. In spite of all that, I believe there is hope that we can overcome this and coexist in a tranquil society."
Well, a tranquil society that rocks out now and then.
[mp3] Cecilia Villar Eljuri: Juala (con Johnette Napolitano)
from
En Paz
Eljuri website:
eljurimusic.com
Eljuri on YouTube