Sväng, their record label claims, "is a refreshing and uplifting new phenomenon in the genre of harmonica bands." Frankly, I was unaware that harmonica bands had earned their own genre. I'll leave that point to the experts. The point of this CD is to spread what I can only describe as wonderful and surprising music.
The quartet begins with a slightly dissonent rising tone that leads to "Jampparaleele," a bouncy tune that sounds like an accordion being pulled in four directions at once. Then the tango melancholy of "Kaipaustango" with a completely different tone, grounded by the low, low bass harmonica. And with the swing of "Saaren Erakko" kicks in, any last suspicion fades that this is just a novelty band.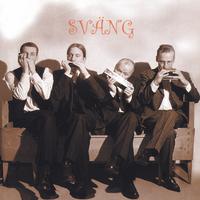 Playing chromatic, diatonic, harmonetta, and bass harmonicas, Sväng achieves a balance and richness you might not expect. They move seamlessly from originals, to traditional Romanian, Finnish, Russian, and Swedish tunes, even the American "Sandy Boys and Hangman's Reel."
Sväng seems to cultivate a retro aura, from the sepia CD cover to their songwriting. You'll find no electronic effects here, and the concluding song "Svängtime Rag" could be the soundtrack to an old silent comedy. If you're dead set against reedy music, steer clear. But open-minded world music listeners and harp players and fans will find a lot to like in this energetic and emotionally rich album.
[mp3] Sväng:
Kaipaustango
from the album
Sväng