I'm writing this on the eve of a big adventure, one which you'll be sharing with me if you read SoundRoots in the coming weeks (and if I find the Internet to be accessible in the parts of North India to which I'm headed!).
The desks at SoundRoots Central are piled high with CDs and a few DVD that we'll be reviewing soon...but in thinking about the appropriate song by which to sail off to excitements unknown than my Canada-based friends Autorickshaw.
Led by the rich vocals of Suba Sankaran (yes, daughter of the master drummer Trichy Sankaan), Autorickshaw have carved out a unique spot in the realm of Indian/fusion/jazz music. Their CD
Four Higher
includes tasty, exotic covers of "Caravan" and "A Night in Tunesia," along with great originals.
This is the title track from their 2007 album
So The Journey G o e s
-- it's an autobiographical song, Suba says, " loosely based in the bluesy south Indian Chalanata raga, complete with train rap from a south Indian railway line."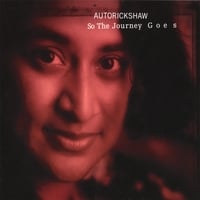 [mp3] Autorickshaw: So The Journey G o e s
from the album
So The Journey G o e s
More Autorickshaw:
website
youtube
myspace
the namesake vehicle
I'll certainly end up in one of these in coming days... photos and harrowing stories will be posted here! And after this Indian interlude, SoundRoots will return to "normal" programming in March.