I have a regret. I failed to make
Honk! Fest West
a priority last weekend, instead taking the simple path of hanging out at the family Easter gathering. And now I feel that what I gained in shrimp salad and fruit-laden jello is overshadowed by the lost opportunity to hear and see some really great brass/marching bands in the streets and pubs of Ballard.
Sigh.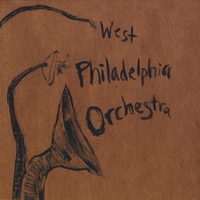 So I console myself on this overcast morning with the sounds of a band that would seem right at home at such a gathering. I only recently ran across the sounds of the West Philadelphia Orchestra. And of course -- being a sucker for well-constructed big band music, whether focusing on New Orleans, Balkan, Afrobeat, or some other genre -- I fell for them. Check it out:
[mp3] West Philadelphia Orchestra: Out of the Fly Bottle
from their
self-titled album
The West Philadelphia Ochestra (WPO) is 14 of Philadelphia's best and most daring musicians playing music that is either from Eastern Europe (Balkan and klezmer primarily) or is inspired by such sounds and rhythms. This album, WPO, is their debut effort and features several original compositions, plus a few arrangements, some radical, of traditional tunes. 'Overflowing joy' is an apt adjective for the WPO experience.
More West Philadelphia Orchestra:
website
(with
more free songs
!)
youtube
myspace