CD REVIEW
Yeh Dede: Freedom
(self-released)
Their CDbaby "recommended if you like" list includes Ozomatli, Paul Simon, and Sweet Honey in the Rock. I'm not sure I get the first two, aside from the similarity of singing (sometimes) in Spanish and leaning (always) toward acoustic global roots music. If you're a fan of global women's harmony, however, Yeh Dede is bang on. Singing songs from a variety of cultures (Brazil, Colombia, Ghana, Ladino Spain, and Israel) and in a variety of language, the six women of the US-based group weave sweet harmonies as they celebrate global consciousness and impel you to dance.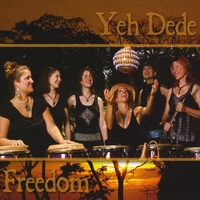 Their rich songs suffer in parts from recording choices that put the instruments at a distance. That aside,
Freedom
is a solid offering with positive messages and spiritual oomph, and I look forward to hearing more from Yeh Dede.
This song, Yeh Dede explains, is a fusion of a popular Israeli song and a kids' song from Ghana, both of them advocating peace.
[mp3] Yeh Dede: Salaam
from the album
Freedom
More Yeh Dede:
website
buy CD
myspace