CD REVIEW
Siora: Vision of the Dry Bones
(Miowan)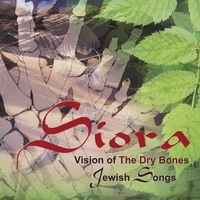 With a few days to go until Christmas, a dozen global holiday CDs wait in a stack while my attentions turn to an unexpected pleasure: the Jewish folk-jazz-world music of Siora. Led by vocalist Phyllis Chapell and keyboardist/arranger Dan Kleiman, Siora has a unique approach to music that is distinctly Jewish yet unconstricted to any particular style.
The group's treatment of Herman Yablokoff's Yiddish classic "Papirossen (Cigarettes)" is a case in point. The five-minute piece starts with a flowing niggun over a composition of jazzy bass and percussion with a string section chiming in percussively. Add guitar, then a swinging piano solo, and a clever, effective double-tracking of Chapell's niggun line. And finally, a riff from Negro spiritual "Motherless Child," echoing the despair of the song's starving cigarette-selling boy and several songs from the Jewish diaspora.
Elsewhere, Siora fuses dobro to Jewish wedding music on "Ki Tinam," and infuses the Israeli peace song "Ma Navu" with Arabic zills and dumbek and the word for peace in several languages. Chapell and Kleiman (and other contributors including the Flecktones' Howard Levy) have a special chemistry that makes this modern genre-bending Jewish music deeply satisfying and highly recommended. And a great alternative to another refrain of "Frosty the Snowman."
[mp3] Siora: Ma Navu


from the album
Vision of the Dry Bones
more Siora:
Buy CD
website
myspace
Here's Siora doing something a bit less Jewish: