Trying something a little different this year. Rather than a simple list, herewith a few details about our favorite global music of the year. These are albums that had more than a couple songs we liked, and that we returned to week after week for airplay or our own enjoyment. We think they'll bring you enjoyment too.
You'll hear selections from many of these albums on the 1 January 2010 edition of Spin The Globe.
(Click on any album name for more info/song samples.)
EUROPE


I'll start with one of the best party albums of the year, Mahala Rai Banda's Ghetto Blasters. Giving us perhaps the best party album of the year, the group's name literally means "Noble Band from the Ghetto," but their ghetto music isn't like our ghetto music. Blistering Balkan speed brass that'll get your heart pumping and your feet dancing. A very different offering with roots in Eastern Europe comes from Georgian-rooted group The Shin. The album Black Sea Fire shows off their instrumental and melodic prowess, a sophisticated music that contains elements of both jazz and Gypsy music, but nothing like Django Reinhardt. Moving farther west, we get to Basque group Oreka Tx and their little known instrument the txalaparta. As the album name Nomadak Tx implies, this is a traveling, nomadic album (and companion DVD) in which they travel to remote lands and make new txalaparta from materials at hand -- including wood, stone, and ice -- and then collaborate with local musicians.
AFRICA


Bela Fleck isn't African, but he created one of the best African albums of the year in Throw Down Your Heart. A collaboration with African artists ranging from Tanzanian musical legend Hukwe Zawose to Afel Bocoum, Vusi Mahlasela, D'Gary, and Oumou Sangare. Bela contributes modestly on this album, which in its own modest way is as interesting and exploratory as Paul Simon's Graceland. From Congo, I'm adding Staff Benda Bilili for their album Tres Tres Fort. This is no sympathy vote: The group's members may be disabled musicians who roam the area around Kinshasha's zoo in improvised tricycles, but they're fully able in the area of musical skills. And the one-stringed "guitar" solos have to be heard to be believed. Malagasy singer Seheno was the very latest addition to this list with her stunning debut album KA, a sparkling blend of Malagasy rhythms and singing with jazz, blues, Indian instruments, and more -- all fronted by a woman with a voice to rival Angelique Kidjo. Finally, we have to add Ba Cissoko's album Sena to this list. I initially struggled to accept Kouyate's effects-laden kora sound as authentically African. But in their decade together, the core quartet of Cissoko (kora), Sekou Kouyate (electric kora), Ibrahima Kourou Kouyate (bass), and Ibrahim "Kounkoure" Bah (percussion) have incorporated influences both old and new and in doing so they've created something of a new genre that is distinctly African, and distinctly modern. Whether you call it kora-rock, or Afro-rock, or electric griot, it's fantastic.
ASIA & OCEANIA


Is Dengue Fever a rock band or a world-music band? Does it matter? Their music is infectious, and the documentary film following the 2005 trip to Cambodia from which the songs on their album Sleepwalking Through the Mekong are taken shows musicians interacting humbly, playfully, and respectfully with various Cambodian musicians and others they encounter. The album includes Dengue Fever tracks, collaborations with Cambodian musicians, and some classic Ethiopian recordings that show the roots of their modern sound. South in New Zealand, Moana & The Tribe brought us another album of empowering Maori music on Wha. The famous Maori haka makes several virile appearances on the album, most notably on "Te Apo," which addresses the greed at the heart of many global trade agreements and includes sounds from the street protests at the 2006 WTO conference in Hong Kong. Great conscious music and songwriting that shows a more mature side of bandleader Moana Maniapoto.
THE AMERICAS


Representing both the north and the south, the Brazilian-NYC group Forro in the Dark brightened things up with Light a Candle, featuring tunes based (at least loosely) on Brazilian forro dance music, great music, including breathless flute and incessant triangle paired with electric guitar. A couple of songs in quirky but endearing English are included alongside the great retro rocker, "Perro Loco" and some other more forro-flavored tunes.
Okay, now I'll give you a list. Following are some other great albums that didn't quite make the cut to be included above (some by the slightest of margins. These round out our Top 20 favorites of 2009:
KAL: Radio Romanista
Larry McDonald: Drumquestra
Madera Limpia: La Corona
Khaled: Liberte
Ye Dede: Freedom
Fanfare Ciocarlia: Live
Oumou Sangare: Seya
Boban i Marko Markovic: Devla
Cacique'97: Cacique'97
Bassekou Kouyate & Ngoni Ba: I Speak Fula
Justin Adams & Juldeh Camara: Tell No Lies
And a few more favorite selections in various categories:
Favorite Retrospectives/Reissues


Mulatu Astatke: New York - Addis - London: The story of Ethio Jazz 1965-1975
Orchestre Poly-Rythmo de Cotonou: The Vodoun Effect-Funk & Sato From Benin's Obscure Labels 1972-1975
Favorite Compilations
Global Lingo
The Revolution Present Revolution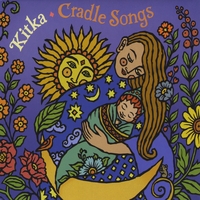 Favorite Children's
Albums
Ziggy Marley: Family Time
Kitka: Cradle Songs
All of these selections are based on our own fickle tastes, airplay, listener and reader response, and other criteria even less easily explained. If you find glaring omissions, feel free to leave a comment (heck, comment your own global top 10 list, if you like!). Thanks for reading SoundRoots and/or listening to Spin The Globe. You're an adventurous listener, and that's good for the planet.